ALEX SPENCER ( ALT FOLK ) BERLIN GERMANY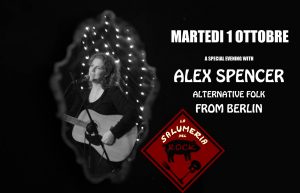 Fresh-voiced and clear-eyed, Alex Spencer picks a path through life's rich turmoil with songs of sweetness and grit that reveal a poetics of the everyday. No-holds barred lyrics, mellow, sweet guitar and crystalline vocals. The place where Jazz, Folk and Pop meet and have an interesting conversation.
Set afloat on a soft and shimmering stream of jazz sounds,
Alex Spencer
's new album "Shine" is the kind of boat ride in which simple human rowing begins to resonate with deeper, inner currents. Her voice, dipping in and out of Paul Engelmann's lyrical alto-sax, propelled by deftly drumming Martial Frenzel, flows gently downstream on Ben Lehmann's double-bass bowing. She sings of insects and deserts, robots and expressionist painting. Mellow and crystalline, as buoyant as Berlin, this is a very seasoned brand of songwriting. Full of hard-earned wisdom, committed to the art of navigating the everyday – "the elephant mother knows where the water is".